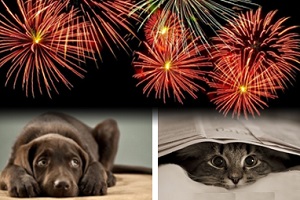 Here's an article we think is worth re-posting!
It is not uncommon for pets to experience anxiety or fear during the firework celebrations on July 4th. Here are some tips before the fireworks begin:
1. Make sure your pet is inside in a safe and secure location so he cannot hurt himself or escape if he panics.
Frightened pets are more likely to escape and are at risk of being lost or hit by vehicles. Make sure your pets have appropriate identifying tags and microchips in the event they are lost.
2. Turn on the fan, radio or television to create comforting or distracting noise.
3. Stay with your pet to provide reassurance and comfort. Do not take anxious pets to parties or gatherings as this can elevate their anxiety.
If your dog is afraid of fireworks, he or she is more likely to bite so keep them away from small children or unfamiliar people. Keep a soft muzzle on hand in case you need it.
4. Natural calming homeopathic remedies and flower essences may help ease anxiety in some pets.
5. If your pet's anxiety is extreme, talk to your veterinarian about a tranquilizer. There are several prescription products that can be used to "take the edge off" or fully sedate your pet, depending on the situation.
6. For the future, consider consulting a behaviorist to help condition your pet to loud noises so they can enjoy the festivities too!
Have a happy and safe July 4th!