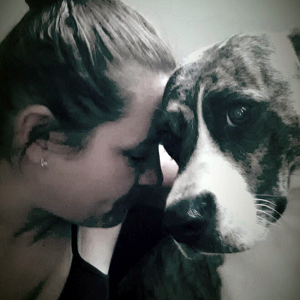 When Maria Dunbar of Toledo, Ohio was sentenced to two years in prison, she knew she'd hit rock bottom. What she didn't know was that helping homeless dogs would help turn her life around in more ways than one.
While incarcerated at the Ohio Reformatory for Women (ORW), Maria joined the Second Chance Greyhound Program, where she earned her Dog Training Certification. "It was there that my rehabilitation had begun," Maria said.
In the program, Maria trained retired racing dogs to become adoptable pets. The work changed her outlook. "I learned to be patient, compassionate, and trustworthy," Maria said. "I began to trust again, as well. I let my guard down for the first time in a long time."
But once she left prison, she had a hard time. "I struggled to find the peace I felt when I was with the dogs," she recalled. Soon after, her mother died, sending Maria into a downward spiral of sadness, anger and regret.
One day she found herself at an adoption event for Toledo's PET bull Project. "I had no idea it would change my entire life," Maria recalled.
Click here to read the complete story.