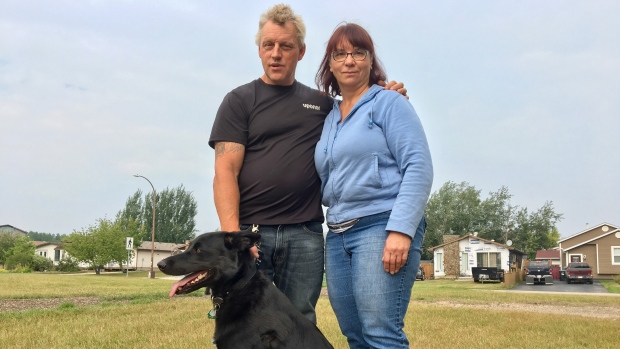 Not everyone would be grateful if their pet woke them up when they were trying to nap. However, Neshan Wagstaffe is incredibly grateful that his dog Clouseau woke him from a midafternoon nap. Because of Clouseau, Neshan was able to safely exit his home when it burned down for the second time in less than two years.
It was mid-August 2017 when Neshan laid down for a nap in his Alberta home. According to the CBC, a friend who was visiting was tending to a smoker on the back deck. Neshan and his wife, Denise Molnar, had recently rebuilt their home after the devastation of the 2016 Fort McMurray wildfire. Unfortunately, the rebuilt home wasn't going to last long.
Neshan woke up from his nap to Clouseau's wet nose. He noticed that his dog "was running around the house going a little crazy." Neshan then saw that his home was on fire, and already burning completely up one side. Neshan told reporters, "I knew right there the house wasn't going to be saved."
Because of Clouseau, Neshan was able to save what was truly important. Neshan grabbed his dog and alerted the visiting friend, so that they were all safe outside when Neshan called 911. The firefighters arrived quickly but soon saw that they weren't going to be able to save Neshan's home, so they concentrated on protecting the homes of his neighbors who had also rebuilt after the wildfire.
Neshan and his wife, with Clouseau, are staying with a friend. They've bought Clouseau a new dog bed and been giving him extra treats to say thank you. Denise told the CBC that she wasn't surprised by Clouseau's actions. "He's smart. He's attached to us," she said. Clouseau's actions certainly prove that.